What I have to share with you is heartbreaking – to hear, to comprehend, to put to paper. I'm sensitive to how disturbing it can be for others to learn, but I truly feel it is important that people know. What you're about to read could be traumatic.
At night, while you read your child a bedtime story and tuck them in safely, there are kids all over the world being raped, tortured and abused. Abused most times by the very people who are supposed to protect them. And if that isn't horrific enough, their abuse is being filmed for others to watch and enjoy. 
I realize this sounds somewhat unimaginable, but as a society we have been in the dark for too long. We have looked away for too long.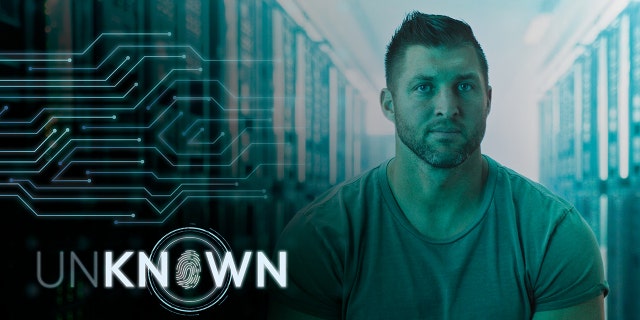 unKNOWN partners with law enforcement and other organizations to help identify and protect more than 50,000 children. (Tim Tebow Foundation)
Recently, there has been a lot of awareness and action around human trafficking. For that I am grateful. I believe human trafficking to be one of the greatest evils in the world that we face today. It's hard to believe people are being bought and sold as if they were mere commodities, but it's the truth.
TIM TEBOW'S RENEWED MISSION TO SHARE FAITH, HOPE AND LOVE WITH THE REAL MVPS
My foundation, the Tim Tebow Foundation, has been in this fight for more than 10 years and been blessed to expand our impact across 30 countries. Through our team and partners, we have created and operate 20 safe homes with 22 more in progress, and protected thousands of victims while helping bring hundreds of perpetrators to justice.
I believe every person on this earth is created in the image of God – uniquely, beautifully and perfectly. Their value is priceless, and they are not for sale. We have to do everything we can to continue identifying and protecting victims, caring for survivors, and working to prevent it from happening in the first place.
But today, I want to share with you an evil that may be growing at an even faster rate than human trafficking. It's called CSAM – child sexual abuse material. Sometimes people will refer to this as child pornography, but that's not the truth. It's just not. These sexually explicit videos and images taken of children are so much worse than that. It's not child pornography, so let's call it what it is, it's child sexual abuse.
Video
The evil of CSAM has been hiding in the darkness of our communities, our homes, and the internet for too long and it's past time we exposed it to the light. Child trafficking is getting a lot of attention, but what most people don't know is that the majority of victims are trafficked down the hallway, in their own homes.
If this is your first time hearing about CSAM, please allow me to share the depth and difficulty of this evil.
According to the National Center for Missing & Exploited Children (NCMEC), of the actively traded images online, fathers are the number one producers of CSAM. The other most common abusers are within their circles of trust, with stepfathers and family friends also on the list for committing these horrific crimes.
According to the Internet Watch Foundation, the United States hosts more websites with CSAM than any other nation in the world.
As you have been reading this, and in every minute that goes by, 156 CSAM images and videos depicting these children's worst moments are being traded, distributed and shared across the world through the darkest parts of the internet for self-gratification. Please take a moment to understand that. Every second of every day, images and videos of children being sexually abused are being actively shared.
So many children are suffering with nowhere to turn, nowhere to go, and no one to talk to because instead of refuge, their own homes have become a place of their worst nightmares, and instead of love and safety, sometimes their own families have become a source of torture.
CHILD SEX TRAFFICKING VICTIM WARNS LIBERALS AGAINST NORMALIZING SEX WORK: 'YOU FEEL LIKE DAMAGED GOODS'
One survivor of child sexual abuse shared in her victim impact statement, "When I was a little girl and when I was being photographed [while] [being] raped, I used to try to send messages with my eyes down the lens in hope[s] that one day a good person might see and come help me."
My hope and prayer is that we can be those "good people." We can be the people who don't look away. While this may be hard to read… how much harder and more tormenting is it for these children to live in this? What's more important, our comfort or their freedom?
I hope we have the courage to not just hear this, but to act on this so that we can protect and love these children suffering so much.
Video
So, you may ask, Timmy, what can I do? The first thing I would say is please pray. I can only imagine these children have been hoping that someone will come for them, someone will protect them, someone will love them enough. They may have even prayed many times, "God, help me, show up. Where are you? I need you." While they may be unKNOWN to us right now, we know they are known and intimately loved by God. He knows their name. He knows where they are. And we pray for His guidance in how we can be a part of these prayers being answered. Please join me in this prayer!
Second, I ask you to consider joining our mission at the Tim Tebow Foundation. Right now, we are running my 36th birthday campaign called unKNOWN. Our heart with unKNOWN is to partner with our amazing heroes in law enforcement and other organizations to help identify and protect a specific group of more than 50,000 children we know have been sexually exploited but whose identities and locations remain unknown.
As this evil grows, we need to build a team and unite dedicated experts, we need to deploy the best training and technology, and we need to engage with government to create a sustainable workforce focused on addressing the issue.
It's hard to not be overwhelmed by the horror that so many boys and girls are experiencing every day. Sometimes it'll make you feel like, "How could we possibly take the next step, there is just so much evil, so much pain, and so much anguish." But then you remember what a big God we serve and how He loves every single one of these lives more than we ever will.
Video
Even in the darkest moments, the heartbreaking stories, we place our hope in Jesus to lead us to one more life, and one more life. Hope also comes from the stories of redemption like this one from a beloved member of our survivor family. She writes:
CLICK HERE FOR MORE FOX NEWS OPINION
"Back when I was in my home, my mom would always [tell] me that I am nothing, I am worthless and I am ugly. But God sent people to love me and to give me the love that my family wasn't able to give to me. When I came here to Compassionate Hope and Tim Tebow Foundation, they treated me like their own child and I found my safe place here."
I can't help but feel that we are at a point in our culture – where we cannot stand silently and passively, watching as the evil of child sexual abuse and exploitation rages on unchecked and seemingly unchallenged. As eyes have been opened, we must now focus our efforts on protecting children and people suffering.
We must do whatever we can to get to the unKNOWN. We need a team. We need an army. We need people who refuse to look away. For my 36thbirthday, I pray to do just that – rally an army, ready to fight for these boys and girls living in this nightmare.
CLICK HERE TO GET THE FOX NEWS APP
As big and daunting as this evil of trafficking and CSAM is, our God is so much bigger and we can have hope that He is rescuing and redeeming lives all over the world. Let's do our part today. Let's pray and let's act.
Thank you for considering joining my birthday campaign, unKNOWN. Together, we can go get them, we can push back this evil!